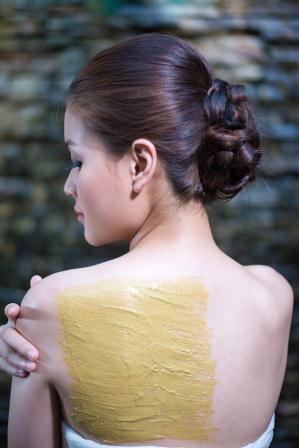 Give yourself a memorable spa experience and awake your senses with one of the fresh Body scrubs offered by Peak Spa Chiang Mai.
Body scrub offers many benefits. it gives your skin a deep cleansing, promotes blood circulation, detoxifies and nourishes your skin.
Exfoliation also reduces stress and promotes the absorption of essential oils contained in the scrub and oil massage.

Body Scrub followed by an aromatherapy oil massage
To boost your wellness experience, it is always recommended to combine a good oil massage with a body scrub. The exfoliation is carried out before the massage in order to stimulate the body, eliminate dead skin and unclog pores by removing impurities. Once the pores of your skin have been detoxified and opened, the essential oils contained in the massage oil can be more easily absorbed by your skin during the massage.
The exfoliation is carried out on the massage table. A disposable underwear is provided to you and the masseuse will exfoliate your body in several sections while covering with a towel the other parts of your body.
Once the exfoliation completed, you will be asked to rinse your body in the shower. Rub lightly to remove the impurities. There is no need to use soap or shower gel.
Back on the massage table, your body will be invigorated and ready for a relaxing massage session.
Body Scrub without Massage
If the exfoliation is not followed by a massage, a moisturizing lotion can be applied to your skin to nourish, moisturize and give a soft and silky appearance.
At Peak Spa, several massage packages includes a scrub with aromatherapy oil massage.
If you are not a massage enthusiast, the body scrub can be carried out separately or combined with a facial treatment, a Thai Herbal Steam or a hot Bath.
Our Scrubs
Our Body Scrubs are made fresh on demand with natural ingredients like Thai Herbs, grounded coffee, sesame, honey, milk, yogurt, rice, sea salt and more.

Scrubs are very affordable at Peak Spa Chiang Mai. You can also purchase one of our current promotions "1 Baht for body scrub or Thai herbal facial"

Please check our spa menu for price and details