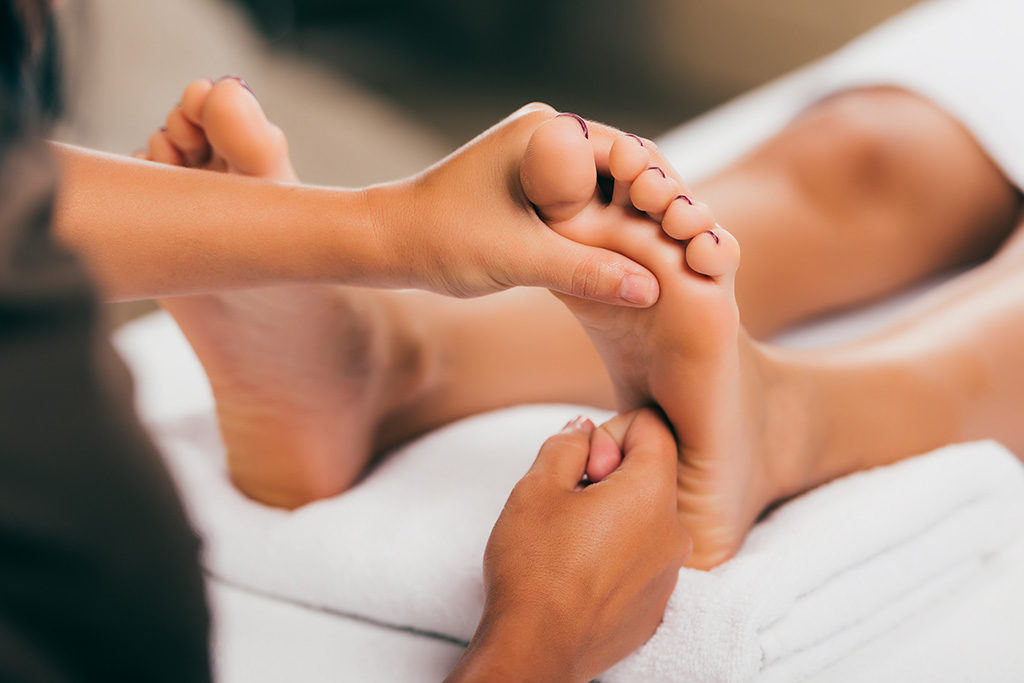 Welcome to Peak Spa & Beauty Salon where you can relax and get a fabulous foot massage treatment and work out the kinks and knots in your poor tired feet and legs after a hectic day. We very often neglect our feet, and it is only once you have received quality foot reflexology that you realise how much abuse your feet take. For the best reflexology foot massage Chiang Mai has to offer, Peak Spa & Beauty Salon is conveniently located on Chang Klan road, a five-minute walk from the famous Night Bazaar. As well as our reflexology foot massage, we also have a variety of other massages and spa packages available, and you can find out more on our Treatments page.
The Best Reflexology Massage Chiang Mai Has To Offer| Peak Spa Beauty Salon
A reflexology foot massage has many benefits when a professional masseuse performs it, and reflexology is used to treat problems throughout the body and not just your feet and legs. In Chiang Mai, foot reflexology is an intrinsic part of Thai massage and through manipulation and pressure to ley trigger points in your feet, can give you relief from a variety of different ailments through the reduction of stress and by increasing blood flow. It has been used successfully for conditions such as stress, anxiety, headaches, asthma, irritable bowel syndrome, back pains, migraines, and bladder problems to name but a few. For a Chiang Mai foot massage that you are not going to forget, book online today or call us on Tel: 053 818 869.
Experienced & Qualified Professional Foot Massage Chiang Mai | Peak Spa & Beauty Salon
When it comes to finding the best foot massager, modern machines just do not compare with a professional foot massage in Chiang Mai, and at Peak Spa & Beauty Salon our professional masseuses will have you relaxed and comfortable in the beautiful surroundings of our Spa and Beauty Salon. If you experience too much pressure, or not enough, when having one of our reflexology foot massage, let your masseuse know and they will be happy to accommodate your needs. When you search for Chiang Mai foot massage, you will see on Google Maps that we are conveniently located close to the popular Night Bazaar area, being a short 5-minute walk away. Whether you live in Chiang Mai, you are an expat, or a tourist, we can help you relax and enjoy your day, and we can even often a free collection and drop off service, click here to see our Free Transport conditions.
Contact Peak Spa & Beauty Salon Today For A Memorable Foot Massage Chiang Mai
When you book directly with us over the telephone or using our online booking system, we can guarantee you the best price possible as no commission is given to guides or agents. You can also receive a 500 Baht discount if you go for our Early Bird promotion, and you can find out more details if you click here. If you have any questions about our reflexology foot massage or any of our other services and treatments, use our online contact form or send us an email at contact@peak-spa.com, and we will get back to you as quickly as we can. You can also call us directly and speak to one of our polite and courteous English-speaking members of staff on Tel: 053 818 869, and for all the latest promotions and special offers, follow us on Facebook. Come and enjoy the Lanna hospitality that Chiang Mai is famous for and enjoy a relaxing foot massage treatment before exploring the sights, sounds, and smells on offer in this beautiful part of Northern Thailand.